I am so excited that I can now have Botox at home in my lunch break by new brand Unndoo's team of experienced medical professionals.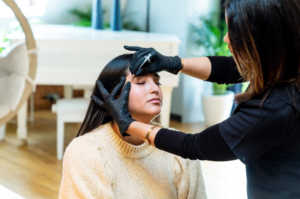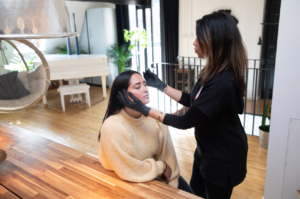 After an extremely stressful year I really feel like I have aged about 10 years and it totally showed in my face!!!
Every time I looked in the mirror it was the first thing I noticed, I looked exhausted! In January I was very lucky to take on a full time role for a Makeup App, which I absolutely love but it means I have no spare time for beauty treatments. Working from home full time means you can't really pop out into town on your lunch break or on your way home from work. So when I found Unndoo I was so excited that you can now have Botox at home! Unndoo is a new online platform that allows you to book aesthetic injections by trained professionals without even having to leave the house. Unndoo was set up so you can receive the highest level of treatment but in the comfort of your own home. You no longer have to risk travelling into central London to receive the treatments you desire.
All practitioners are experienced medical professionals. Most are either dentists or doctors to ensure you're in the safest hands and they all have qualifications from the leading governing bodies to ensure you're in the safest hands.
I had the lovely Reena, she was so efficient and thorough in the treatment. She went through a full consultation before the treatment, to work out exactly what I wanted to achieve. She gave me her opinion and we discussed the different options.
The treatment itself was basically pain free and it was so nice to be able to lie down on my own couch to have it done. The whole process took only 45 minutes, so perfect timing for me to still grab some lunch and be back online within my lunch hour.
Reena carefully gave me all the aftercare instructions and I was really impressed with the Covid procedures that were in place, I felt in totally safe hands throughout the whole experience. I had no bruising and no one would even be able to tell I had anything done, so was fine to hop straight back into my zoom meetings after lunch. 
10 days later and I am soo pleased with the results! I have been working such crazy long hours but I don't look at all tired. I have worn much less makeup because my skin feels so much better and I really don't feel I need it. I have had so many compliments on people saying how well I look, which I love, as it shows it isn't obvious I have had Botox.
I am so pleased I found Unndoo and highly recommend them for anyone looking for Aesthetic treatments. I will definitely be using them again in the future.
Most commonly asked questions around having Botox at home.
After posting on social media that I had received this treatment I was asked lots of questions about my experience. So I decided to put together a little Q and A for you all below:
So what is botox? 
 "Botox" is the only approved treatment to temporarily improve the appearance of wrinkles. 
A cosmetic result is achieved by selectively weakening muscle groups, the degree of which can be carefully managed, to reduce contracting activity for a desired aesthetic effect.
How long will it take to work?
After Botox injections a smoothing effect is seen. Full effects of each treatment are expected within 5-7 days, with effects lasting 3-6 months.
Will I look like I can"t move my face?
The 'frozen' look is achieved from having a large amount of botox injected. It is usually achieved over time and is a look people want and chose to have. It is a big fear for a lot of people and it is a misconception that this is the typical results from botox. Nowadays people are choosing to have the more natural look, the buzz word for this is "baby botox", it is a smaller dose being injected. Unndoo recommends you start with a smaller amount and build up slowly. This way you will see how affective the Botox is and if you will then need more, rather than giving you a large amount in one go and feeling like it is too much.
Will it hurt?
'it will feel like a sharp scratch' I didn't find it painful, and I could hardly feel it at all surprisingly. 
Will I get bruising?
I personally had no bruising at all, and you wouldn't have even noticed the little dots where the needles had gone in. 
Will anyone notice?
Nobody noticed mine unless I specifically told them and then they could see the difference. If you are going for the 'baby botox option" then it wont be obvious that you have had anything done. You will probably just get people saying things like "you look well" or "you look less tired" this is what happened to me and for this is the perfect amount. 
Will I have to continue forever?
No, if you have it once and then never again your lines will be no worse than before. 
Will my lines reduce over time?
If I look back to pre botox the difference in my frown line is huge, even when I didn't have botox for a while, the frown line did not go back to any way near as bad as it was back then. 
What aftercare will I need to follow?
You will need to sit up for 4-6 afterwards, so I would recommend not having it just before bed time. 
The next day you can put makeup on, but avoid any areas of open skin. 
Use clean hands/ makeup brushes to avoid infection.
Avoid exercise plus steam and sauna for 24 hours. 
When should I come back for my follow up appointment?
Usually after 2 weeks, as this will allow enough time for the Botox to fully start working. You can then discuss with your practitioner if you require more or are happy with the original amount.
I really hope you enjoyed reading this blog, if you to would like to have Botox at home you can visit Unndoo's website and book directly through that. Just chose your location, and the areas you want to have done and if you are unsure on what you will need you have the option to just book a consultation.