Christmas is on it's way, with parties and celebrations already happening, Christmas shopping has started and the decorations will be going up very soon. This is the busiest time of the year for many people, especially those in my industry (we actually call it silly season). So what about our beauty regimes, I feel like we need to step it up as it gets to the coldest darkest time of the year, the heating is on which is drying out our skin big time and then we go out in the freezing cold harsh winter and the combination of the two will dramatically dry out our skin, leaving it feeling sore and flakey. Plus the added effect of too much alcohol and not the healthiest of food options we are treating it badly from both the inside and out! This will then of course makes it harder to apply makeup, and if you want the perfect Christmas Party makeup then you need to have the perfect base. I have been trying to give my skin a double boost in preparation for Silly Season by protecting mine from the outside but also the inside, here are my favourite products I am using right now.
When I feel my skin is really suffering I love to treat myself to a mask. The Bioeffect Hydrogel Mask is the next level in masks for me. It felt absolutely amazing when it was on, and then stayed on really well so I could move around and leave on for the full 15 minutes and maybe even longer. After wards my skin felt completely renewed, this mask was more like having a professional facial than just doing it myself at home, I really could not believe the difference and so went to find out more about the brand behind the mask.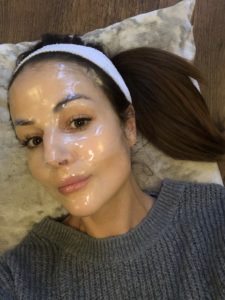 Bioeffect is inspired by the natural beauty of Iceland, they promise smooth, radiant skin that fights the effects of aging without unnecessary chemicals, additives, stabilizers, parabens, or preservatives. Epidermal Growth Factor, is the foundation of all their products. Here's what they say: "Our skin cells naturally produce EGF to keep our skin youthful and supple but as we grow older, production slows. BIOEFFECT's barley-based EGF is unique in that it is a plant-based replica of human EGF which means applying EGF products to your skin stimulates your skin cells' production of EGF." Sounds perfect to me! I have also tried Bio Effect Essence, which you apply before you're serum or moisturiser to leave skin soft, hydrated and healthy looking. 
To find out more visit www.bioeffect.co.uk
So what can we do to protect our skin from the inside,

I have recently discovered LQ Liquid Health, firstly they taste delicious!! By far the yummiest health drink I have ever tried. This little bottle of yumminess is taking wrinkle busting and anti-ageing to the next level and here are all the amazing ingredients helping it to do this:
•Collagen: Clinical studies have shown that a daily intake of 7000mg has a positive effect on skin, hair and nails.
•High Grade Resveratrol: A wrinkle-busting ingredient packed with natural antioxidants to fight free radicals and slow down skin ageing.
•Hyaluronic Acid: Responsible for keeping skin plump, smooth and supple.
•Silicon: A B-complex vitamin to help the growth and maintenance of healthy skin, hair and nails
•Vitamin E: A key antioxidant that protects and repairs the skin and helps promote the natural formation of collagen.
•Vitamin C:Promotes the natural formation of collagen, also contributes to cell protection from oxidative stress.
So you have all that goodness in one little bottle the perfect way to making sure you are getting all the vitamins and minerals you need in one go. Available online and in store at Boots. 
If you are like me and have curly hair then you may find it looks great all summer in a beachy, wavy style but then come winter it turns into a crazy frizzy mess! My hair takes me an hour to blow dry and then I can step out side and with just the tiniest bit of rain or even dampness it will double in size and look like I never blow dried it at all. So this year I called upon hair stylist Roxy Farrier, we regularly work together at weddings and the hair styles are amazing so I knew she would be able to sort me out. She advised I have the Keratin Treatment which is specifically designed for someone like me with frizzy unruly hair who struggles to blow dry it.
So what is a Keratin treatment? 
"All hair is made up of keratin. The more keratin one has in their hair the smoother and straighter you hair naturally is. Those with frizzy, unruly locks, have less keratin in their hair. The treatment is designed to deposit keratin into the hair shaft, in order to create a smoother finish for you. The treatment is not damaging to your hair and will help bring your hair back to a healthy condition if its been exposed to too much heat previously. After the treatment, the time it takes you to blow dry will be halved, and therefore your hair will not be exposed to as much heat."
I was so wowed with the results, my hair felt silky smooth which never happens to me. I can now blow dry my hair in just 20 minutes and it doesn't frizz up as soon as I leave the house. Also what I love about this treatment is you don't have to leave it on, unlike many others which you have to leave on for 3 whole days on the hair will look really greasy during this time. I am so happy with my new silky, shiny hair and will never go without this again, it really is a game changer!!
Before:                                                                           After: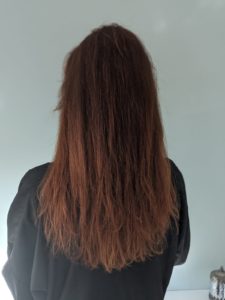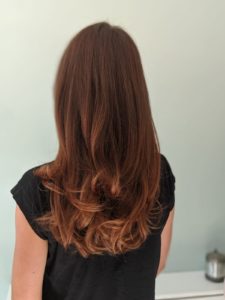 If you would like to book or find out more you can go visit Roxy's website www.roxyfarrier.co.uk