Self-care has become one of the key words of 2020!
It has been so stressful whether we have had no work, had to work whilst trying to home school kids or not getting to see our family and friends just to name a few!! Stress levels and anxiety have risen dramatically and people are needing to find new outlets to deal with this strange new way of life. I have put together some of my favourite products as well as tips I have been using to help make me feel better and stay as positive as possible.
Sleep:
If you have been like me and have been struggling with sleep throughout lockdown then setting yourself a little bedtime routine can really help. 
Balance Me is a wonderful brand for self care, their whole ethos is taking a little bit of time to slow down and take care of ourselves, because skin care is self-care. 
They have put together an amazing beauty sleep routine set, it contains a hyaluronic acid mist which is high in relaxing bio-actives to hydrate and plump the skin while you sleep. It contains Valerian which promotes sleep and by spraying the mist and taking a few deep breaths as you do it instantly relaxes you.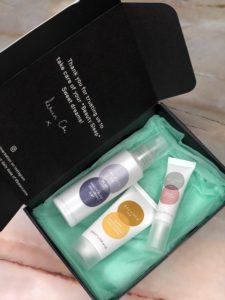 Deep breathing techniques are so great at relaxing you before bed and helping you to fall asleep. I have been following guided mediation which really helps me, one of my favourites is Yoga Nidra 
Smells are so important when creating your bed time routine, and I have been using Neoms Sleep a natural scent comprising 19 of the purest essential oils, including English Lavender, Sweet Basil and Jasmine to help leave the mind and body feeling relaxed, calm and ready for a restful evening.
Self Care Sunday:
Self-care has become one of the key words of 2020, and with this self-care Sunday has also become super popular on Instagram recently. I love having a little pamper session on a Sunday which always includes a bath and a face mask. I use the Sienna-X clay mask, leave it on for 20 minutes when you soak in the bath and your skin will feel instantly better, softer and soother. It is also a great way to force you to relax as you can move whist it is on. 
To receive 25% off all Sienna-X products you can use my code RS8SUBG and to read more about this brand and why I love them check out my previous blog on all the products to get me through lockdown. 
I have been really enjoying listening to positive podcasts and in the bath is a fab time to do it. Some of my favourites include: 
Happy Place by Fearne Cotton
Super Soul Conversations 
The Balance Podcast 
To help your whole body relax, I love adding Epsom bath salts  to my bath.
Pampering yourself:
Giving yourself a facial can we so relaxing, just taking that bit of time out. I often do it in the evening whilst watching TV. I love using the Ion Anlan Facial Skin Scrubber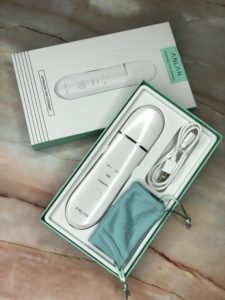 There are four ultrasonic modes available for different skincare needs:
Ultrasonic: Daily clean mode designed for gentle and face cleaning of small impurities.
EMS (Electro Muscular Stimulation) is the derivation of muscle contraction with electric impulses. Massages and lifts the skin, also promotes collagen production in the skin.
Ion +: Deep clean mode for in-depth and thorough facial cleansing once a week.
Ion –: Special mode designed to help the absorption of products deep into the skin.
You can sit back and relax and let the machine do all the hard work. I love how tingly my skin feels afterwards, you can really feel it working. 
Healing your skin from within:
In the summer I was really struggling with my skin, stress and exhaustion definitely did not help plus wearing the masks has been a disaster for skin. I started to take Collagen supplements and have really noticed how much of a positive effect it has had. It helps to reduce the appearance of wrinkles and improves skin's hydration, firmness and elasticity
I have been using the brand Modere  and their range Liquid Biocell. It tastes delicious and as well as having the Collagen in, it also contains Biotin and Zinc which are great for your skin, hair and nails. You can use my code 8519926 for £10 off the whole of the Modere website. I also love their skincare range especially their Serum and Moisturiser combo