The top 3 products to wear during 'Mask Life".
The top 3 products to wear during 'Mask Life". the governments guidelines of wearing a mask I thought I would give you guys my top products for the only areas you can actually see! I recently did a hygiene course online all about Corona and how I can keep my clients safe when I finally do get back to work. The most important thing I learnt is that if you have Corona and you are wearing a mask then your chance of effecting someone is 5%, and the likely hood of you catching it goes down 70% if you are wearing one!! My mum has already made over 100 masks for the NHS, care homes, friends and family. We are now selling them for £10 (PP may by extra) and the money will be going back to buying materials to make more. I will be asking all clients to wear one before entering my studio when I do reopen. If you would like to order please email or message me and I will get one sent to you straight away.
So as only the top part of our faces can be seen, and I don't think there is any point wasting foundation at the moment, plus you don't want to get it on the mask! So it is going to be all about the eyes, and this should take less than 5 minutes to do.
1. Concealer:
I have had so many clients message about what concealer they can use at the moment without having to apply a full face of foundation. MAC Pro Longwear Concealer   is one of my all time favourite concealers. I use it on myself on a day to day basis. It is light and liquidy, so is fine to apply on it's own. Just make sure you apply a moisturiser first and then you will be able to blend it in without any obvious lines. I always use a slightly lighter colour than my skin as this will highlight the eye area. MAC have two shades; N and C – if you have yellow undertones (like me) you will need a C shade, if you are more pink based then you will need an N. If you are unsure if what colour works best for you then I am more than happy to help advise you by seeing a photo of you. Please contact me here.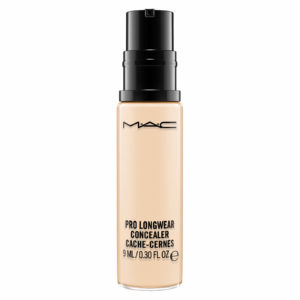 2. Lashes:
If you are missing your false lashes then I can highly recommend using these at home. They are by a sister company to the brand I use on my clients, called Hanna Beauty Shop  and you can get 20% off if you use my code BECCA20. They are light and fluffy and come in different lengths so you can build them up to as full and dramatic as you wish. You can also reuse them, so in a pack which costs £12.99 you could easily get about 20 wears out of them.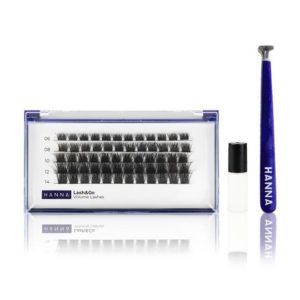 If false lashes are not your thing, or those that do but need something for every day then I have found the perfect smudge proof mascara by Poppy Sloane! Mascara is something I always get asked about, especially at weddings. Brides and in particular Mother of the Bride often worry about crying on the big day and the last thing anyone wants is big black panda circles!
After chatting with the owner yesterday I found out all about how this mascara is 100%completely smudge and flake free. It is due to a technology called tubing which means it wraps micro-fibres (or polymers) around the lash rather than covering it, As the mascara dries it transfers to a flexible tubular coating that doesn't transfer to the skin, the result is longer lashes with great definition which are 100% smudge proof. Another great feature is that it is easily removed , which is the common problem with most waterproof mascaras. I am really pleased to say that the Poppy Sloane mascara is hypoallergenic, paraben free, palm oil free and they have a vegan range. If you use my code BG20 you can receive 20% off.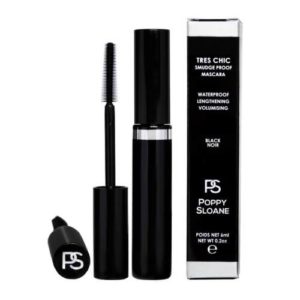 3. Brows:
Brows are so important for shaping and framing your whole face, when I look back at photos of me in the 90s it was such a bad look not having any! At the moment I know a lot of you are struggling with doing them at home, I have recently tried out the Sienna-X at home tint kits It is really easy to apply, just follow the instructions included, if you are unsure I would leave on for less time and build up slowly. If you have any questions just let me know and I can advise you.
If you don't want to dye your brows and want a product that you can apply as and when needed then the sculpting brow pencil is a great option. It has a triangular-shaped tip that allows you to create and adjust definition for a precise hair stroke or shaded finish. You can then set your brows and help maintain a structured or fluffy finish with the Brow Fixing Serum, the effective formula ensures long lasting and perfect brows.
You can use my discount code RS8SUBG to receive a third off everything at Sienna-X until the end of May.
To find out about other beauty products to get you through lock down you you can read my previous blog here