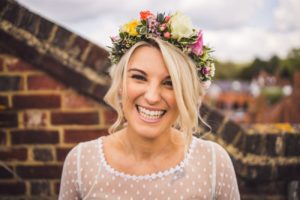 I was so lucky to get to do Katie's Wedding Day Makeup  who got married last May in Henley. It was the most amazing sunny day for her and her groom. The photos of the day are just beyond wow, so I could not help but share them!!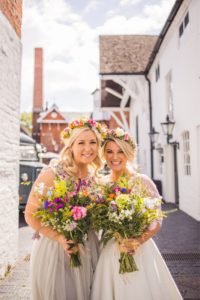 Wedding Day Makeup For Beautiful Bride Katie:
I previously met Katie when she was bridesmaid a few years ago for her sister in law. I was so happy when she asked me to be her Makeup Artist.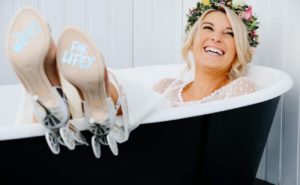 Katie is absolutely stunning and with her striking blonde hair we could really go for a strong makeup look. Katie had a gorgeous tan as she lives in Dubai and had just come home for the wedding, so we went for a sun kissed glow for the skin. With a smokey eye to really makes eyes pop. This was teamed with a soft pink lip which really brought out the colours in the flower crown.
Katie and Frances, whose wedding makeup I previously had done a few years ago.
Wedding Day Makeup For The Bridal Party:
Katie had a very large bridal party! I think it was the largest number of people I had ever done on one day! But with a tight schedule it was possible to make sure everyone was ready with plenty of time for touch ups at the end.
How to chose a style of Makeup to suit everyone:
When there is such a large bridal party it is best to try and keep to a similar theme for makeup, this will look best in the photos. Of course this can change slightly in terms of colours on the eyes and lips to match the individuals own colouring. For example for a bridesmaid with blue eyes a grey eyeshadow will look best, where as a bridesmaid with brown eyes golds and browns will really complement this and bring out the sparkle.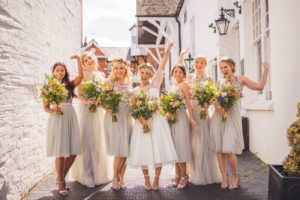 But the overall look will be in keeping to a similar style. So you would not have one bridesmaid with a bright red lip or really heavy eyeliner, as this will stand out too much in the photos. You would chose a similar style for everyone and draw your eye to that person rather than creating an overall beautiful finish. All of this will be discussed at your bridal trial. We can come up with a makeup look that will look amazing on everyone in your bridal party. To find out more about what happens at your bridal trail visit my page all about weddings www.beccagray.co.uk/bridal-makeup-surrey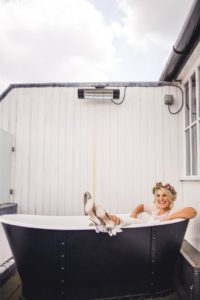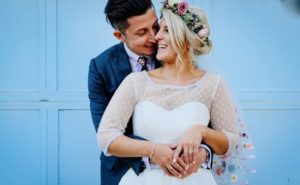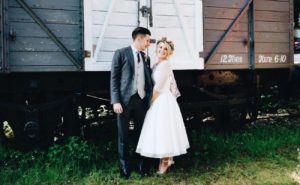 Gorgeous photos by www.navyblur.co.uk
Flowers by Sandra Hart
Dress by www.beretundesigns.co.uk
Hair by https://www.rosiehartstylist.com/